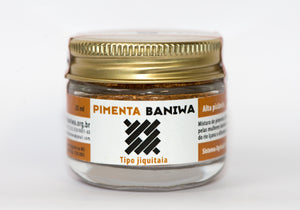 Pimenta Baniwa
Pimenta Baniwa is a blend of dozens of varieties of Capsicum peppers that the Baniwa women cultivate in a  system and system of exchange employed for millennia. The Baniwa are natives of the rainforests in the border region of Brazil, Colombia, and Venezuela, a remote part of the Amazon and Orinoco River Basins. All production from cultivation to processing and packaging is performed by Baniwa women, who thereby retain a large percentage of the retail price of the product. 

Check out this video: https://www.youtube.com/watch?time_continue=244&v=pBqiCsrU7yQ
Click here for the Baniwa Jiquitaia Pepper in PDF form. The book includes fascinating information about the origin and cultural significance of Pimenta Baniwa (Jiquitaia), a description of 43 of the more than 70 varieties of peppers found in communities of the Içana River, a review of the traditional,  and production process of the Baniwa women, and some great recipes, including some from the famous Brazilian chef, Alex Atala. Enjoy!
There is not yet information on where it would sit on the Scoville scale, but this chili powder has got some real heat and smokiness! 
Jars contain 15 grams (0.53 oz) of chili powder and a touch of Maras Salt from the Sacred Valley of Peru.
---
We Also Recommend
---