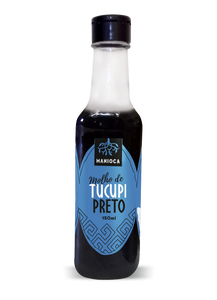 Manioca Tucupi Preto Sauce
Tucupi Preto (black tucupi) is a product that we rediscovered in the metropolitan region of Belém, Pará. Although better known in other Amazonian regions, as in Guyana and Roraima, it was forgotten here and is still little known. Tucupi preto is made by reducing yellow tucupi (the juice of manioc) for days on the stove, which thickens and caramelizes the liquid until it becomes nearly black, hence the name. Its traditional use by Indigenous peoples in much of the Amazon is in the conservation of food, especially game and fish. Its preparation varies according to the indigenous group, its descendants, or the tradition of the producer: it can be seasoned or not, made from different manioc varieties, fermented or not, cooked for more or less time, thick or of varying textures.
Black tucupi generally does not have any seasoning but rather varies in character through different reduction techniques. It is important to remember that black tucupi tastes nothing like the original yellow version, which in its own right is a popular ingredient in the cuisine of Pará and well known throughout Brazil. Brush black tucupi on meats or use a drop to compose a sauce with a unique umami flavor, something sweet, salty, acid, and smoky. It makes a good substitute for soy sauce. Our product is made only from pure yellow manioc juice and does not contain any dyes, preservatives, chemicals, or added salt.
http://www.eltrinche.com/datos-calientes/noviembre-es-el-mes-del-tucupi/
https://www.saveur.com/story/food/how-peruvian-chef-is-preserving-amazonian-food-traditions/
http://www.bbc.com/travel/story/20201122-the-amazons-mouth-watering-fifth-flavour
---
We Also Recommend
---